The First World War in the Dolomites
The First World War was the first global conflict with modern weapons, equipments and technologies. At the same time, it represented a deep trauma for all European peoples. It was especially so for the Ladins, the South Tyroleans and all the peoples of the Dolomites.
Discover more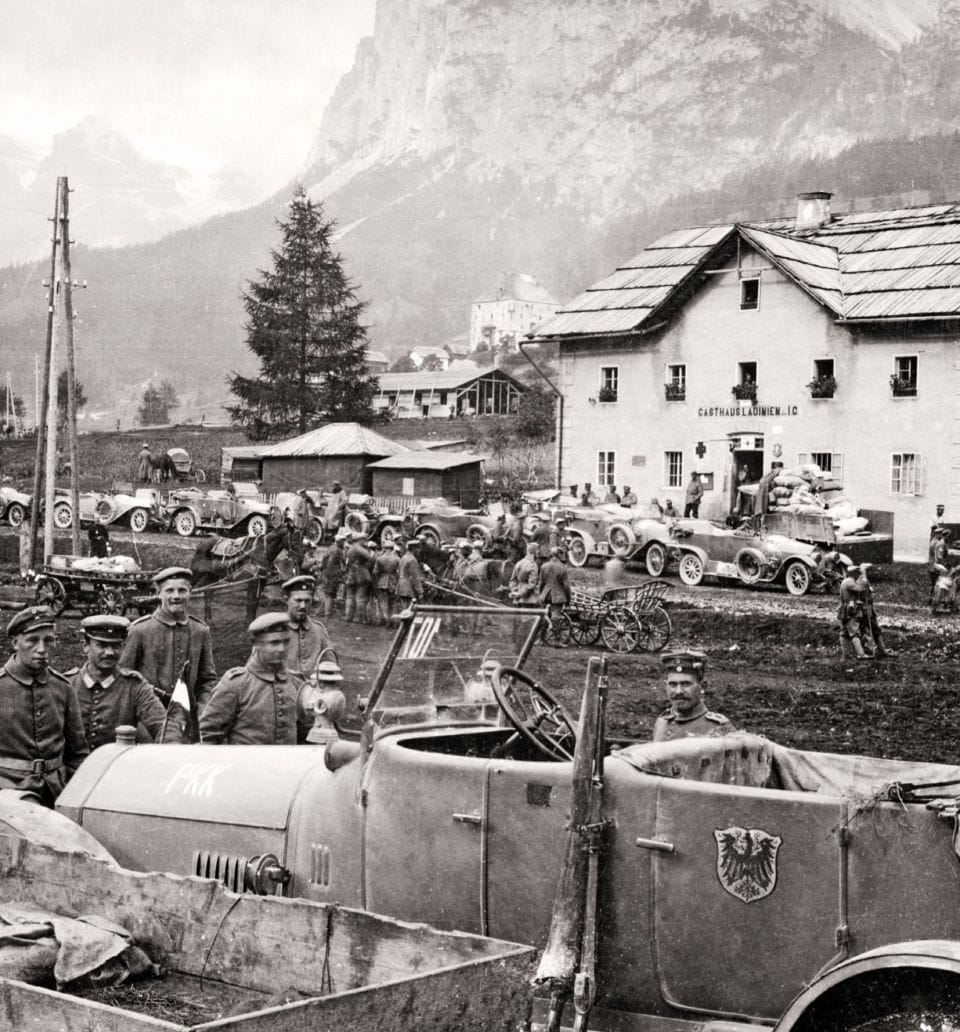 In the footsteps of the First World War
Walking through trenches, tunnels and everlasting stories of suffering
Warfare on the Dolomites front started in 1915, after Italy declared war to Austria-Hungary, a year after the start of WWI. It soon became a stalemated struggle of attrition and trench warfare on what was the border between Italy and Austria, more or less the current-day border between South Tyrol and Veneto. The front ran through the mountains and was dotted with forts, fortified hillside posts on mountain passes and peaks, as well as covered by hundreds of kilometres of trenches and tunnels dug into the rock. It became known as the "war amid rock and ice", also due to the severe and long winters marking those tragic years. The winter of 1915/1916 was the deadliest, snowiest and coldest. More soldiers were killed by the cold temperatures and avalanches than by mortars and guns. Two avalanches alone, on the Marmolada and in the Höhlensteintal / Val di Landro, buried 300 people each. When the war finished in 1918, South Tyrol and Trentino were cut from the rest of Tyrol after more than 1.000 years, and became part of the Kingdom of Italy.
1/1
The war on the Dolomites front has left indelible traces on the mountains around Camping Sass Dlacia as well. The Valparola pass is the ideal starting point for those wishing to visit the remains of the war and retrace the front line. The WWI museum "Forte Tre Sassi" is a renovated Austrain fort which was called "Intrá I Sas", which means "between the mountains" in the Ladin language. Various trails branch off from this point, running through the well kept remains of trenches, military positions and tunnels, some of them restored and still accessible. The fort lies between the Sas de Stria with its countless trenches and tunnels and the renovated Edelweiss stationing. From here you can follow the Setsas / Settsass front line to the Col di Lana, whose peak was blown up by the Italians using 5 tons of dynamite and causing the death of 150 Austrian soldiers who were stationed there. The other side of the Valparola and Falzarego passes is the seat of the Lagació / Lagazuoi mountain. The face of the mountain is overrun by kilometres of tunnels, both Italian and Austrian. One of the most famous itineraries is the round trail of the Lagació / Lagazuoi, following the Kaiserjäger path on the way up and the Italian tunnels on the way down.

Photos: Archive Istitut Ladin
Continue your exploration